VALENTINE'S DAY & ROMANCE - History, Mythology, Culture, Traditions, Love, Dating, Advice, Gifts
---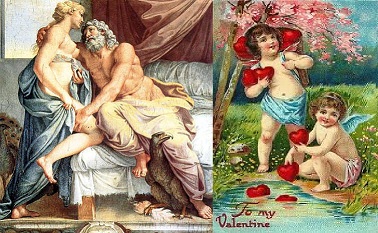 INTERESTING VALENTINE TRADITIONS AND SUPERSTITIONS
- Hundreds of years ago in England, many children dressed up as adults on St. Valentine's Day. They went singing from home to home. One verse they sang was:
Good morning to you, valentine;
Curl your locks as I do mine---
Two before and three behind.
Good morning to you, valentine.
- In the Middle Ages, young men and women drew names from a bowl to see who their valentines would be. They would wear these names on their sleeves for one week. To wear your heart on your sleeve now means that it is easy for other people to know how you are feeling.
- Some people used to believe that if a woman saw a robin flying overhead on Valentine's Day, it meant she would marry a sailor. If she saw a sparrow, she would marry a poor man and be very happy. If she saw a goldfinch, she would marry a millionaire.
- Think of five or six names of boys or girls you might marry, As you twist the stem of an apple, recite the names until the stem comes off. You will marry the person whose name you were saying when the stem fell off.
- If you cut an apple in half and count how many seeds are inside, you will also know how many children you will have.
- A love seat is a wide chair. It was first made to seat one woman and her wide dress. Later, the love seat or courting seat had two sections, often in an S-shape. In this way, a couple could sit together -- but not too closely!
- Pick a dandelion that has gone to seed. Take a deep breath and blow the seeds into the wind. Count the seeds that remain on the stem. That is the number of children you will have.
- Some people said if you found a glove on the road on Valentine's Day, your future beloved will have the other missing glove.
- Some believed the first man's name you read in the paper or hear will be the name of the man you will marry.

BACK to Valentine's Day and Romance... Directory
---
---
The Make Life Work For You Family of Helpful Websites
---