VALENTINE'S DAY & ROMANCE - History, Mythology, Culture, Traditions, Love, Dating, Advice, Gifts
---

SADIE HAWKINS DAY
Sadie Hawkins Day was a day-long event in Al Capp's comic strip Li'l Abner observed in the United States on the Saturday that follows November 9, named after Sadie Hawkins, "the homeliest gal in all them hills." Each year on Sadie Hawkins Day, the unmarried women of Dogpatch pursued the single men. If a woman caught a man and dragged him back to the starting line by sundown, he had to marry her.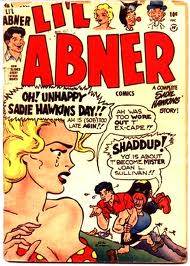 Sadie Hawkins was the daughter of one of Dogpatch's earliest settlers, Hekzebiah Hawkins. When she reached the age of 35, still a spinster, her father in desperation called together the eligible bachelors of Dogpatch and declared that day to be Sadie Hawkins Day and that "when ah fires [my gun] all o' yo' start a-runnin! When ah fires agin - after givin' yo' a fair start - Sadie starts a runnin'. Th' one she ketches'll be her husband."
The town spinsters decided that this was such a good idea, they made Sadie Hawkins Day an annual event, much to the chagrin of Dogpatch bachelors everywhere. (See leap year for discussion of a similar tradition of "allowing" women to propose marriage on February 29.)
Sadie Hawkins Day was first mentioned in the November 13, 1937 Li'l Abner strip with the race actually taking place between the November 19th and November 30th strips. It would prove to be an annual event in the strip.
Sadie Hawkins Day captured the imagination of many young, particularly on campuses. A Life magazine headline reported, in 1939, that "On Sadie Hawkins Day, Girls Chase Boys in 201 Colleges" and printed pictures from Texas Wesleyan.
Many US high schools, especially in the Midwest and South, hold Sadie Hawkins day dances. These dances are characterized by girls asking boys for dates, and matching farmer clothes being worn to the dance. This dance is also occasionally called "T.W.I.R.P." (The Woman Is Responsible to Pay), in which girls ask boys, pay for dinner, dance tickets, etc.
Abilene Christian University celebrates a Sadie Hawkins Week, rather than only one day. However, there is no associated dance, in light of the school's traditional policy prohibiting social dancing.
BACK to Valentine's Day and Romance... Directory
---
---
The Make Life Work For You Family of Helpful Websites
---